"Do you want kids?" asked the woman across from me, her expectant eyes fixed on their target. I didn't respond.
Technically she occupied half of the adjacent table, not mine. But her question reminded me that the restaurant we were eating in is no only child. It's merely the oldest — born before the other restaurant, the wine bar, and the cookbook — and I was in Montréal to visit the family.
"Son of a b…."
A singular stream of profanity fell from my lips when the Double Down dropped. A tripled LDL count and quadruple-bypass surgery felt imminent.
Before me: two slabs of foie gras, crusted with potato chips, fried and stacked like sandwich bread. Between them, a caloric conglomerate of bacon, cheddar and mayonnaise. On top, a sticky swizzle of Québécois maple syrup. It was all so hellish, so heavenly.
Joe Beef is a restaurant infamous for such dishes. Late last year, chefs David McMillan and Frédéric Morin published its eponymous cookbook with the preamble "The Art of Living According to…" And on this frigid January night, warming our bellies with all sorts of things fried and foie'd seemed the only means of survival.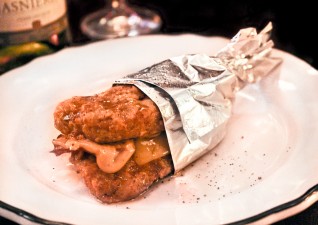 "Neither of you were born yet…"
Our waiter joked, half-aloud, as some 1981 Armagnac dripped into our glasses. That and a wonderful ginger eau de vie ensured our wobbly walk-out.
These punctuated an excellent meal of oysters, briny and sweet. Flounder and razor clams bathed in vermouth. Guinea hen wearing the unmistakable perfume of vin jaune. And potatoes, fried — because they can, damn it — in beef fat.
The dessert menu also promised a potato. That meant meringue: two clouds, baked and brittle, dressed in their sundae best with ice cream and hot fudge — a pavlova pumped up to feed twenty. Sated and sloshed, we walked back to the hotel. One mile in an hour and a half.
"Nah, son."
My friend was not feeling the shrimp. We were down the street at Liverpool House the following night. Here, some dishes felt like tiny little punishments, not rewards, for the gluttonous abandon with which I'd ordered.
Those shrimp clung to a sticky sludge that seemed equal parts Buffalo wing sauce and ketchup. The name suggested these crevettes would take us to Chinatown; somebody took a wrong turn.
About the rest of the food that night I have so few nice things to say that I'm better off silent. Suffice it to say there was no high point, only a temporary reprieve or two (oysters again, branzino) from the low ones (bland beets, pasty pasta, rubbery rabbit…). On the whole, our meal here — quite unlike Joe Beef — felt sloppy and worthless.
It was an arduous journey back to New York. Freezing rain pelted us on the way out of Canada, ensuring a missed connecting flight. Deflated and ultimately defeated by the soulless voices of the US Airways customer service team, we trudged over to a bar in Philadelphia.
Last call was in ten minutes, but we needed something — anything — to make us forget the upcoming bus ride back to New York, the conductor with the sandpaper voice and three missing teeth. We were due home at dawn.
—————————————
"Do you gentlemen want cocktails?" asked the mouth beneath the waxy mustache across the bar.
Yes, I told him. I'd like three.
Did you like this? Share it!