Love, like an American supermarket, is a fascinating and scary thing.  To walk its aisles is to struggle to distinguish what you want from what you need.  To fully understand its intricacies is to know too much.  In a frustratingly beautiful way, its true nature can seem inscrutable.
Danish supermarkets aren't much easier so far.  This is the fifth one we've been to in Copenhagen tonight.  My girlfriend and I have just eaten lunch — two days in a row — at noma, the restaurant some rank above every other one on the planet, and she is agonizing over which gummy candies to have for dinner.  It turns out that she is to gelatin and sugar what Robert Parker is to wine or Roger Ebert to movies, a connoisseur of the highest ilk, an unequivocal arbiter of quality.
I poke fun, but it's actually quite fetching.  I've always had a thing for Sour Patch Kids, so the match was meant to be.
I also think she and I were meant to experience noma together. It's been probably three years since René Redzepi popped up on my radar, thanks in no small part to a girl named Trine and a guy named David.  But back then I couldn't have pointed to Denmark on a world map.  A neophyte in the world of fine dining, I was stupid and near-sighted.
Fast-forward to a year ago and we were at el Bulli, eating hare brains and sea anemone while our friends and family gorged themselves on turkey to celebrate the most gluttonous American holiday.  To this day I don't have a clue how I snagged that reservation, but it set the bar awfully high for our future dates.
So, too, did the live fjord shrimp we were served the first day at noma.  My girlfriend shuddered and looked away in disgust, a sure sign that the date was going well.  Otherwise she'd have shuddered, got up, and left.
But there were many reasons to stay — thirty-five of them, including all the different snacks surrounding both twelve-course menus.  I regret that I'll only be able to tell you about the most compelling of them.
Fruit leathers made with a crazy sour Scandinavian berry called sea-buckthorn made me think of my four-year-old niece. As a baby she would ask me for "froo yeh-yers" every time she came over, and I'd gladly comply.  That's love, too, isn't it?  We devoured these in her honor.
Redzepi taught us about æbleskiver ("apple slices") when he brought two over. Traditionally these balls of dough are pan-fried in cast-iron molds and eaten as a sweet snack in Denmark around Christmastime. But did I know of takoyaki, he asked? Noma's are savory like that — with tiny smoked-and-pickled fish from Finland called muikko swimming through the center — but interestingly the Danish treat predates the Japanese version altogether.
Deep-fried reindeer moss was easily the most obscure of the snacks.  But with a sprinkle of porcini powder and a careful dip in crème frâiche, it was enticing, even familiar.  Within the walls of noma, esoterica seemed to dissolve.
It's all so open and comfortable, the dialogue here between diner and chef.  It is, to my mind at least, just about perfect. Redzepi and his clan of sous chefs deliver and explain the food.  They've foraged for much of it, studied and then rewritten its history, and poured themselves into its preparation. It's written all over their faces — they believe in what they serve.
The first day — when Redzepi was not in the kitchen but instead in noma's houseboat/research lab — brought a more protein-centric progression, and a smattering of noma classics.
Day two held more flora than fauna, more restraint, and, for me, more intrigue.
It was on day one that a razor clam wearing a sleeve of parsley gel got rained and then snowed on by clarified mussel juices and a frozen fluff of buttermilk and horseradish. The snow melted on my tongue and left a sour, lingering heat in its wake. Combined with the masked mollusk, its effect was to push the reset button on my taste buds.
There is something truly primal about noma's beef tartare.  Cut by hand, it is eaten with the hands. We dragged the bright red meat through juniper powder and a tarragon emulsion. Wood sorrel and horseradish punctuated with a pop.
Succulent Danish langoustines washed up on huge stones in front of us.  Dotted around them, an emulsion of raw oysters, seawater, and parsley, like mayonnaise on a mean streak. Again using our fingers we dabbed the crustaceans in the sauce and then through powdered söl, an Icelandic seaweed.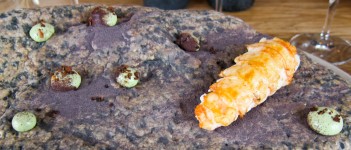 These last two were paired with pine juice a.k.a. liquid Christmas tree.  We had the juice pairing both days at noma, and enjoyed it immensely. The progressions were different but the lineup the same: sea buckthorn, lingonberry, pine, elderflower, pear-verbena, beet, cucumber, and carrot, all made in-house and, it goes without saying, with local ingredients.
The opening move on day two was raw squid with crispy rye bread, white currant granité, and dill oil.  The texture of the squid was not to be believed — firm but yielding, scraped perfectly smooth and diced into uniform little cubes — a testament to both the freshness of the product and the meticulousness of those who prepared it.  Each mouthful of this dish played out a most exciting crescendo and decrescendo — sour and herbal for an instant, but fading off smoothly with the touch of cream at the base of the plate.  I was enraptured.
From there, subtle flavors seesawed with more assertive ones — shaved fresh chestnut with bleak roe and thyme, slowly caramelized cauliflower with spruce and horseradish whipped cream.  These both reflected a graceful balance which belied the list of ingredients.
So did the pickles, which, of course, weren't just pickles. They were a kaleidoscope of ten different vegetables, each prepared in a different brine. Smoked bone marrow and an unctuous pork sauce provided garnish for the vegetables, not vice versa.
Desserts are the domain of Rosio Sanchez, and they're so seamlessly integrated into the noma ethos that it's hard to believe she's been there for just over one year.  Her pine "parfait", as they called it (I called it a half-frozen sponge with personality), might not have worked anyplace but here.  Beer and bread, as wonderful as they both may be individually, may not have snuggled into the same bowl together with such amazing results.  And an edible snowman probably would have seemed downright silly had it not been for the blizzard blanketing the city twenty four hours a day since our arrival.
In trying to tell you everything about noma I have told you nothing.  I neglected to mention the edible branches hidden in our table's plant arrangement, the fabulous sourdough bread, or the fact that I now have a not-insignificant fondness for elderberry "capers" (i.e. the pickled unripe berries).  But the truth is that no amount of detail can do justice to the comprehensive effect that noma had on me.  It would be futile for me to exalt just one dish or one meal, impossible to explain why if I don't get involved with a place like this at some point in my career, I will have considered it a failure.  I can only say that noma is the best restaurant I have yet been to by a margin so great as to be immeasurable.
In the end I can only say I loved it, and thank goodness, my girlfriend loved her gummy candies.
Did you like this? Share it!