People don't talk anymore. We text. We email. We double-tap to like. We make Facebook a transitive verb.
What a pleasure, then, to sink into the passenger side of this all-black Mercedes SUV and have a conversation with Thomas Bühner. This is not, I should point out, an interview. He's the chef of Michelin three-starred La Vie and I'm just some guy he has invited to eat there. He's fifty years old and I'm not yet thirty. He drives.
I pretend I'm just excited and grateful to be here, but I shift about in my seat, anxiously. My legs stop shaking but my teeth start chattering when I open the door. We've arrived at the kitchen garden in Bad Essen, today a 4,000 m² grid of snow, ice and twigs. This is nature's graveyard shift — winter in the upper latitudes of Germany.
A woman named Victoria owns this place. At 600 years of age, it has been in her family since well before its renovation in the early 1800s. Chez Victoria is not, by the way, a cottage or a farmhouse or a cabin. It's a bona fide castle, and Thomas is not the king of it.
"She asks me what to grow… I don't say a thing," he admits.
I look around and realize that I don't see a thing. Not what Thomas sees here, at least. His eyes find spring and summer, shoots and roots. He pauses in an invisible flower garden, and nearly cries at a barren quince tree I'd have walked right past. "I just feel like when it's over, it's over," he sighs to punctuate a rather emotional description of that tree's fruit. One can feel his love for this garden, when it's in bloom and not.
Nearly three years ago, Victoria approached Thomas about growing vegetables for La Vie. He and I talk about those years on the forty-five minute drive back to Osnabrück. He tells me how proud he is of his brigade of fifteen cooks, and how humbled to see his son growing up so fast, now fifteen years old. Being the leader and role model for both is for Thomas life's biggest challenge, and its greatest reward.
Within a few days, La Vie will close for winter break and Bühner will retreat to an ayurvedic farm in Sri Lanka. I get the sense he'd take the entire staff with him if he could. Since April 2006, when he arrived at a restaurant boasting just one Michelin star and 16 points in Gault-Millau, this has been his family.
Thomas treats me, I realize, almost like a son. It's dusk now and he's arranged a tour of historic Osnabrück for me and my friend, just arrived by train from Amsterdam. Already today Thomas has fed me lunch, and she and I will return to La Vie shortly for dinner.
Rebels, we sneak away from the group at city hall to explore the weihnachtsmarkt, or Christmas market, going on in the main square. We sip glühwein and get rained on and laugh and shop for gifts for our families and it all feels very good and also very bad because it's very cold.
"So what did you buy your mother?" Thomas asks me later. He sounds just like my dad.
Now he's Chef Bühner and he's back in the kitchen. In my mind, lunch and dinner merge into a single stream of culinary consciousness, and at first, I drown in it.
In these waters, menu descriptions span three lines like unintentional haikus:
Young leek as salad
calamari, green shiso
radish, Nashi pear
Banana milk shake
coriander, kaffir lime
caramelized chocolate
This poetry reveals a seasonally ambiguous list of ingredients. Where but in its verses would watermelon, pumpkin, tomato, cranberry, sweet potato and sweet corn be cohabitants? I'm not upset about this, just confused by the unlikely December bedmates.
But I don't give a damn what month, day or even year it is while I devour lamb with comté, sweet potato, and wheatgrass. This is meat and potatoes in twenty different permutations, and each makes the constituents taste more like themselves. I'm happiest using sweet potato chips to scoop up coarsely chopped lamb tartare. I dollop on some wheatgrass foam with the texture of shaving cream, then drag a corner through warm comté sauce.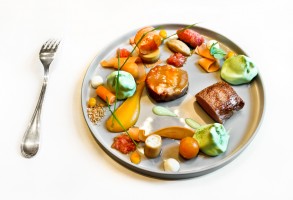 Besides this I love the snacks, the surprise interludes, the pre- and post-game coddles. These include a sort of terrine of North Sea crab propped in a salty-sweet nori crumble, and shiso sorbet with hibiscus broth under a crispy coil of what looks like ribbon but tastes like cranberry. Best is a palate cleanser served at both meals — warm potato foam that hides a scoop of pumpkin-curry ice cream — a firecracker buried in the ground.
Digging deeper here isn't always rewarding, though. A scallop dish is perfectly fine until you stab at the kohlrabi "noodles" that snake around it, limp and insipid. Beautifully cooked ribeye ('merican beef, in fact) suffocates next to sticky discs of over-smoked bone marrow.
Elements of contrasting texture, temperature and flavor predominate to the point of absurdity. Superfluous garnishes have us asking "why?" while someone in the kitchen apparently wonders "why not?" The fresh and the fermented seem attached at the hip; hot rarely shows up without cold. I feel like ice cream appears on every dish.
Maybe I exaggerate. Or maybe Bühner and I are both just writers in need of an editor. We sit together in the lounge now. The other guests are gone. I stuff my gullet with too many bonbons and quaff solera-aged grenache like it's Welch's. We talk about dinner, and he listens intently.
He's listened all day, come to think of it. But have I?
My expectations and the unique circumstances under which I've come here are nothing but background noise, I realize. They still rattled in my head as I tried to focus on pastry chef René Frank's parsley root dessert. But then Thomas sat down beside us, one hand propped on my shoulder, and leaned in to tell me about it.
There's blown sugar shaped into a hollow parsley root, he said. A filling of that vegetable and coconut. Black garlic-and-chocolate cream beneath. Torn bits of a salty pistachio sponge cake. I saw the dish through a clearer lens now, and admittedly, the combination was masterful. I shut up, and I smiled.
Back home, I've struggled to tell this story. To color this prose even a light shade of purple would be disingenuous and discreditable. There were dishes at La Vie that I struggled with, but to highlight only those would be incomplete and insincere. My only hope, then, is candor. The candor to lift the veil that I held over my own eyes in Osnabrück, to see not just Thomas Bühner's food but also his warmth and his generosity. To hear his voice. Because maybe Rumi was right that one who chooses to live by bread alone is to be left that way — alone.
Did you like this? Share it!